Dental Implants – Elk Grove, IL
Get Your Full Grin Back for Life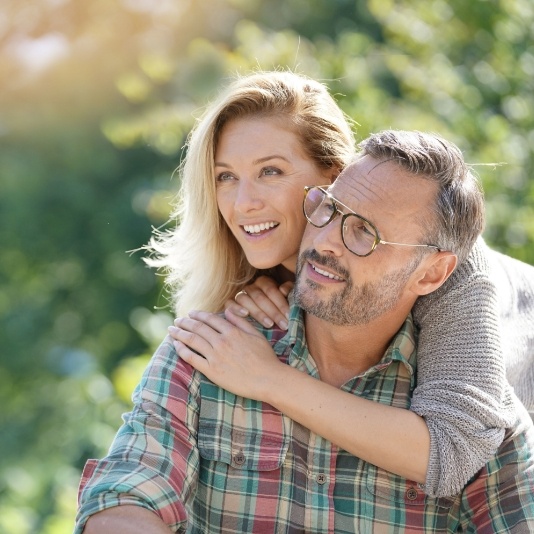 Are you self-conscious about the gaps in your smile or a loose-fitting denture? If you're ready to get your full grin back for life, then it might be time to consider dental implants. Millions of Americans have enjoyed a higher quality of life by replacing their missing teeth with dental implants, which are by far the most lifelike tooth replacement available today. We encourage you to contact the team at Kushner, Becker & Associates to start the process of rebuilding your smile by scheduling a dental implant consultation!
Why Choose Kushner, Becker & Associates for Dental Implants?
Experienced Dentists with Advanced Prosthodontic Training
Digital Impressions Used for Enhanced Comfort & Accuracy
Partnered with Expert Oral Surgeons in the Area
What Are Dental Implants?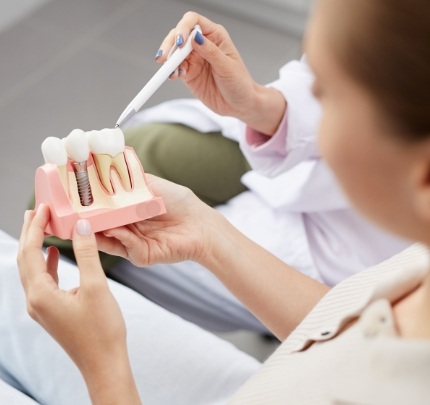 Dental implants are tiny, screw-shaped titanium posts that replicate the roots of the teeth, which are normally hidden under the gumline. The implants are fitted into a patient's jawbone, where they form a solid bond that can support a dental crown, bridge, or denture for many, many years to come. As the only option capable of reconstructing the entire tooth, dental implants are typically considered the gold standard of tooth replacement.
The 4-Step Dental Implant Process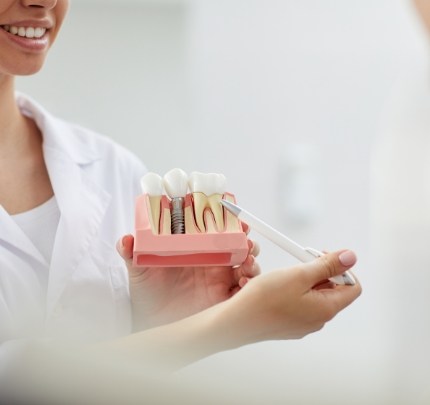 When it comes to dental implant treatment, no two patients have the exact same experience, but you can expect to go through four main phases:
Initial consultation – One of our dentists must first evaluate your oral health, your overall health, and the density of your jawbone to determine whether you're eligible for dental implants. You might need to complete one or more preparatory treatments before implants can be placed.
Dental implant surgery – You'll be referred to a trusted local oral surgeon, who will carefully position the implants into your jawbone.
Osseointegration – The implants will fuse with the surrounding bone and tissue over the next three to six months.
Restoration – Once your implant is firmly embedded in place, our dentists can restore it with any number of customized prosthetic teeth.
Benefits of Dental Implants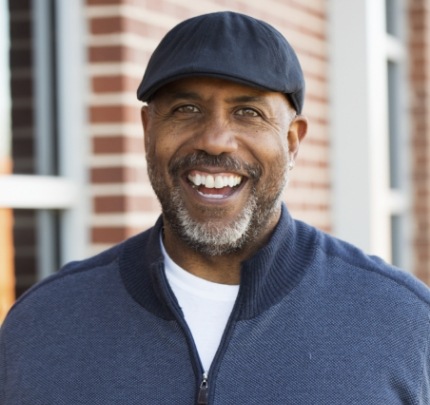 Why are dental implants often seen as the premier tooth replacement? Consider the benefits they offer:
Prosthetic teeth that can potentially last for 30+ years with very minimal and easy maintenance.
Unmatched stability; you should never have to worry that your teeth will shift around or fall out like you would with dentures.
The ability to chew virtually any food with the same ease as natural teeth.
A younger-looking appearance due to the implants stimulating your jawbone and filling out your facial structures.
Who Dental Implants Can Help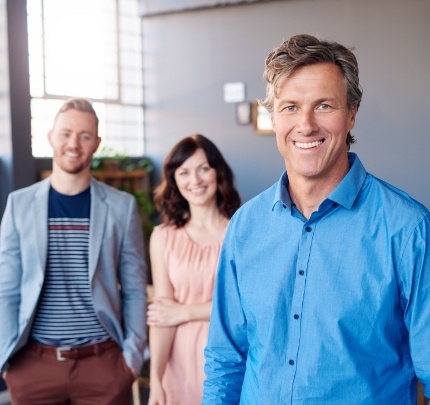 If you're an adult who is suffering from tooth loss, there's a high likelihood that dental implants can help you. The main prerequisite is that you don't have any oral health concerns, such as gum disease or low jawbone density, that could jeopardize the success of your treatment. If that is currently the case, we can arrange for you to undergo the appropriate preliminary procedures. Once we've deemed you ready to move forward, we can begin planning to replace any number of missing teeth.
Missing One Tooth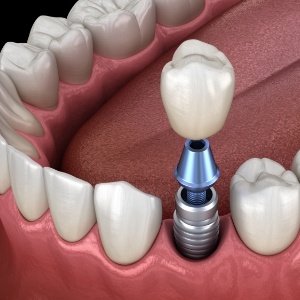 A single missing tooth can be brought back with one dental implant post vertically placed in the socket where the tooth's roots used to be. Then, we can top the post with a personalized dental crown that restores the look and function of the tooth, all without relying on the adjacent teeth for support.
Missing Multiple Teeth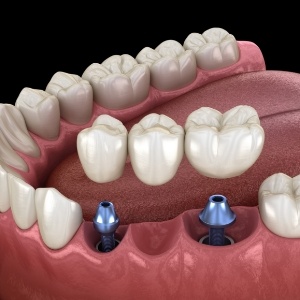 Several lost teeth in a row can be replaced with just two implants – each of which is positioned at the ends of the gap – that anchor a dental bridge. Unlike with a traditional bridge, we can preserve the structure of your remaining teeth with an implant bridge because the prosthetic is fully self-supporting.
Missing All Teeth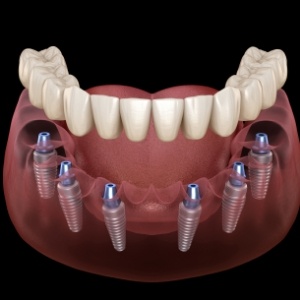 By strategically placing an average of four to six implants throughout the upper or lower arch, our team can create ample support for a full denture. You can choose to make your implant denture either fixed in place or removable, but in either case, it will be exponentially more reliable and long-lasting than conventional dentures.
Understanding the Cost of Dental Implants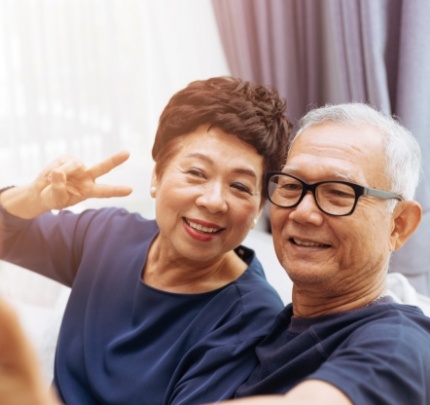 Determining the exact cost of dental implants is impossible before we've had the chance to go over the myriad factors that affect your treatment, such as the number of posts you need and the preliminary treatments required. After we've reviewed these factors during a consultation, we can give you a price estimate. Although dental insurance rarely covers dental implants, we can gladly discuss other payment options to minimize your out-of-pocket costs.